MUSIC, THE ARTS & CULTURE 2018
Current Events 2018
JANUARY
recommended young talent from my community for young Nicky Jam "EL GANADOR"Series airing in June
FEBRUARY
Saturday February 24th Music Social at GENTE with
Featuring DJ TONY "B" BONILLA
153 East 45th Street
NYC NY 10017
8:00 PM till .....
MARCH
Producing Special Event, the 22nd Anniversary Celebration of Caribe Latino 89.9 FM NY Radio Show
& Women's History Month
Saturday, March 31, 2018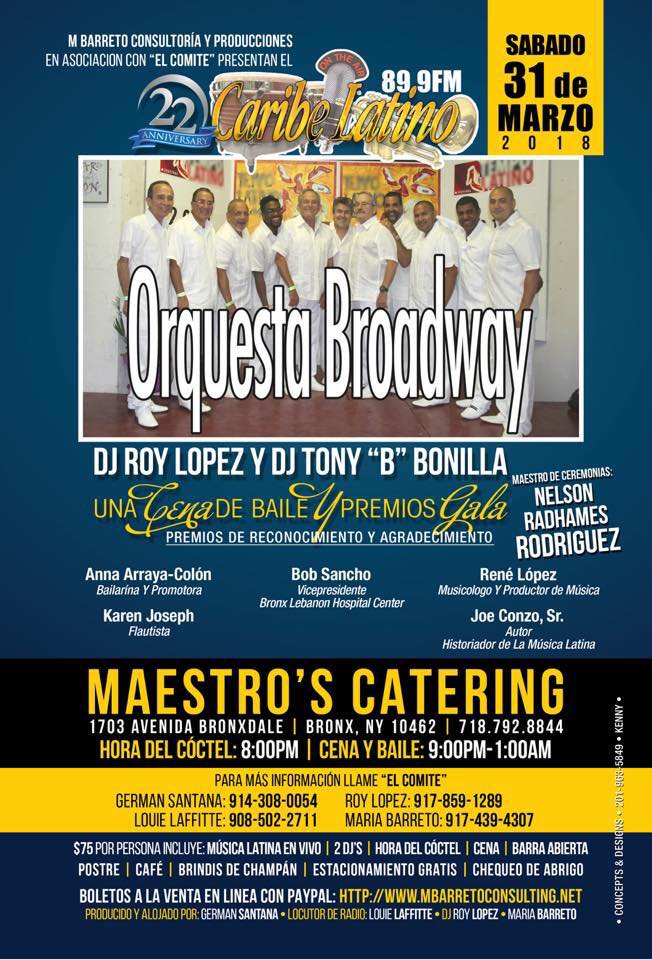 LAST YEAR 2017
I'm honored to have had the opportunity, as an Executive Producer of the off-Broadway Play
GROWING UP GONZALES written, produced and directed by Felix Rojas
Starring Andres "Chulisi" Rodriguez
Produced the AHORA MISMO COMEDY & SALSA show
the 3rd Saturday of the month at EVO Lounge Bronx NY
Contributed to the upcoming movie SHINE by Tony Nardillo featuring live Salsa coming this Fall viewed at the AMC Theatre Times Square NYC
Sponsor of "Behind The Speaker" featuring Host DJ TED SMOOTH & very special guests
Attended the annual Z93 Concert "Día Nacional de la Salsa", interviewed multiple Artists video being produced
Created and facilitated Special Music Event on behalf of SALSA SUPERIOR MIAMI in NEW YORK, where new history definitely was made. Hundreds of years of experienced Artists and Musicians under one roof were recognized for their unique contributions. Dinner, beverages and cake was served.
Consultant Business Development for new venue
ESCAPE LATINO RESTAURANT in New Rochelle NY10801 Authentic Classic Latin Cusine, spirits, imported wines, desserts and Live Latin Music every Friday. Free parking and seasonal patio. Book your Holiday Party today by calling (914) 355 5885.
New York Ricans for Puerto Rico Fundraiser created the most diversified cultural performances at SOUTH OF FRANCE Bronx NY 10462. We had live music, Poetry, Comedians, DJ'S, Raffles, Art and so much more thanks to the owner Maribel GONZALEZ, Arsenio GONZALEZ and myself for creating such a memorable opportunity to help Puerto Rico.
Advocate for our very own musicians and artists to preserve and create new music. Advocate and Facilitated on behalf of Living Legend Joe Quijano who returned to New York due to hurricane Maria in Puerto Rico.
Promote awareness daily, of our rich culture through the Arts
On behalf of M Barreto Consulting and the entire TEAM, thank you for trusting us to create your memorable special event. To all the Talent that expressed their interest in our multiple professional services, thank you. Special thanks to all who have signed up with us for exclusive professional and custom services. And, to all the venues and talent buyers, we are humbled and grateful.
We accomplished many goals which included bookings, CD Release Parties, CD covers, Book signings, obtained New Venues and provided great performances with outstanding talented Artists & Musicians, studio recordings of new authentic music, multiple marketing and social media campaigns, and continue to meet our goals.
DUE TO GROWTH OF MUSIC AND ART DIVERSE CLIENTELE, STAY TUNED FOR REDESIGN COMING SOON!
WE CAN STILL BE CONTACTED AT (917) 439-4307

¡DEBIDO AL CRECIMIENTO DE CLIENTELA DIVERSIDAD DE MÚSICA Y ARTE, ESTEN PENDIENTE PARA EL REDISEÑO MUY PRONTO!
TODAVÍA PUEDE CONTACTAR AL (917) 439-4307
New opportunities are created every day, just for you!
Music, Art and Business
FOR GLOBAL BOOKINGS, PLEASE CALL NOW (888) 991-5016
PARA CONTRATACCIONES MUNDIAL, FAVOR DE LLAMAR AL (917) 439 4307